When imagining holidays, it is common to put yourself on a shack on a quiet beach. At nearly 700 km, Maharashtra state has one of the longest coastlines in the entire country. The coastline is dotted with several beaches, both popular and secluded. But that's not all. Maharashtra is probably one of the few states in India which has several forts, many belonging to Marathas, but some built by other rulers such as Bahamanis, Siddhis and Portuguese. Coastal Maharashtra (or Konkan as it's called locally) is not plain. It is a series of flat beach strips interspersed by hill ranges. There are many vistas where you will see the sea waves crashing into the base of hills. To complete your enjoyment, Konkani food is extremely delicious. In this post, we will tell you about how we covered Konkan region, its beaches and its many sights worth visiting.
Geography of Konkan
In a previous post where we talked about how we covered Maharashtra's Ghats, we mentioned how western Maharashtra is divided into three regions: a mountain range named Sahyadris, which form part of the continuous Western Ghats that run from southern Gujarat to Kerala, a low lying region between the Arabian sea and the Sahyadris called Konkan and the plateau to the east of Sahyadris named Deccan. In this post, we will focus on how you can travel through Konkan following our route plan.
Konkan itself is divided into two parts, one to the west and one to the east. The western part of Konkan is where you find beach life.  You can see beaches, fishing boats, sea forts, coconut trees, homestays and resorts along the coast. The eastern part is at the foothills of the Sahyadris, undulating and deeply forested. Here you will find waterfalls in monsoon, hill top forts to guard the sea route, ancient caves carved on the hill-side and the entry to the Ghat roads that lead to the Sahyadris and the Deccan.
There are two highways in Konkan, one in the western part and one in the eastern. The NH-17 or Mumbai – Kanyakumari national highway is in the eastern region and follows the foothills of the Sahyadris closely. This highway stays away from the beaches, since it is meant to be a high speed highway stretching across the west of peninsular India. It is only at towns like Karwar (Karnataka), Maravanthe (Karnataka), Bekal (Kerala) and Alleppey (Kerala), that the highway briefly approaches as close to the sea as it can. The other highway, known as the coastal highway, starts at Uran (where Mumbai's new high capacity port exists) and goes all the way to Terekhol, on the border of Maharashtra and Goa. This is the highway to be if you want to cover the beaches of Konkan. Panvel city, which is part of the urban conglomerate of Navi Mumbai (or New Bombay), in Raigad district, is the town where the two highways diverge when driving from Mumbai. The highways stay parallel across the west coast of India, with important connecting roads across the peninsula, and finally merge at Kanyakumari.
Despite seeing similar weather, the two regions of Konkan should be visited in two different types of weather. The western part adjoining the sea is at its best during winters, when the sea is well-behaved, is a safe distance from the land and beaches are broad and dry. But it is not a good time to visit the eastern part, when the Sahyadris are dry and brown. The eastern part is best visited during monsoon, when the Sahyadris are lush green and plush with several waterfalls. However the sea becomes turbulent, encroaches the beaches and makes them wet, sticky and narrow.
Our advice is to visit the two parts of Konkan, each during the season best suited for it. During monsoon, you can combine an east Konkan drive along with Maharashtra Ghats drive. The west Konkan drive can be combined with an enjoyable experience that takes you on a two week drive along the beaches of both Maharashtra and Goa. For all the drives, you are recommended to start from Mumbai city that almost forms the northern end. You can end the drive at Panaji (coastal) or Madgaon (foothills), or continue further to Karnataka.
Route plan
Here is our route plan map for Konkan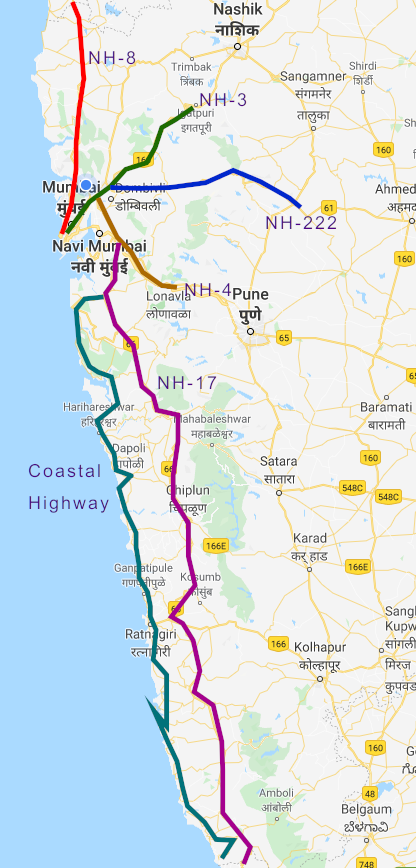 Regions in Konkan
Six districts of western Maharashtra form the Konkan region. From north to south, these are: Palghar, Thane, Mumbai, Raigad, Ratnagiri and Sindhudurg. Mumbai is an island that is off the coast of mainland India. It overlooks Palghar, Thane and Raigad districts. The other 5 districts are exactly on the west coast. Mumbai and Thane districts are urban. The experience you will have there is of busy roads, street food, shopping malls, tall skyscrapers and technology companies. Same is the case with southern Palghar district. Northern Palghar district shows culture which is Catholic since it was in the hands of the Portuguese for a long time. The beaches and the houses there feel very similar to those of Goa. When travellers talk about the typical Konkani experience, they usually refer to what you see in the mostly rural Raigad, Ratnagiri and Sindhudurg.
Coastal highway
Here are some of the most interesting destinations on the coastal highway
Beaches
Here are the best beaches you will see on the Konkan coast.
Vasai, Palghar, Arnala: These are beaches in Palghar district to the north of Mumbai. To reach them, you need to head on NH-8 Mumbai – Ahmedabad – New Delhi highway. As mentioned, the feel of these beaches is more like Goa since there are plenty of churches and Portuguese-style houses around this area.
Juhu, Versova, Aksa, Chowpatty, Gorai: While Juhu, Versova and Chowpatty are beaches inside Mumbai city, Aksa and Gorai are on islands seperate from Mumbai's chief islands. There are bridges that connect to those islands from the main city. Gorai beach is closer to Thane city than it is to Mumbai.
Uran, Kihim, Kulaba, Akshi, Revdanda, Kashid, Nandgaon, Murud: These are beaches that are in the northern part of Raigad district. Uran beach is quite close to Panvel city. Kihim and Kulaba are in Alibaug town. Revdanda, Kashid, Nandgaon and Murud beaches are in and around Murud town. Akshi is a quiet and secluded beach somewhere between Alibaug and Murud.
Diveagar, Aaravi, Shrivardhan, Harihareshwar: These are beaches in the southern part of Raigad district. These beaches can be reached easily from Mahad town.
Velas, Kelashi, Velaneshwar, Guhaghar: These are two very good beaches to the north of Ratnagiri district. Velas and Kelashi are especially popular in January due to the sighting of newly breeding Olive Ridley turtles.
Pandhra Samudra, Kala Samudra, Bhatye: are three beaches in Ratnagiri city.
Ganeshghule: is a very laidback and not often visited beach south of Ratnagiri city.
Malvan, Tarkarli: are beaches in the town of Malvan. Tarkarli is popular during winter as a destination for scuba diving.
Sagareshwar: is the southern-most major beach in Maharashtra. It is in the town of Vengurla.
Land forts facing the sea
Vasai, Ghodbunder, Worli, Bandra: are three forts, all built by the Portuguese, that are in or near Mumbai city. All the four forts are on the land immediately adjoining the sea. Vasai fort has several structures in fully or partially intact condition and has a huge and beautiful campus. Ghodbunder fort is in ruins. Not much is beautiful about Worli or Bandra forts, but both provide an excellent view of the Bandra – Worli sea link and the Mumbai skyline.
Revdanda, Korlai: are two forts guarding the coast between Alibaug and Murud. The two forts face each other. While Revdanda is on the beach, Korlai is on a small hill on a spur of land jutting into the sea and directly faces Revdanda beach fort. Both forts are built by Portuguese and have campuses huge enough to explore for a couple of hours.
Harnai: is a land fort facing the sea from the town of Harnai. It is meant as a secondary fort to Suvarnadurg (see in the section for island forts)
Jaigad: is a fort to the north of Ratnagiri city that guards the creek between Velaneshwar and Jaigad. The creek used to be an entry / exit points for trade ships in the Maratha empire.
Ratnadurg: is a hill top fort facing the sea to the west of Ratnagiri city. It also has a Bhagavati Devi temple.
Vijaydurg: is a fort that is on a spur of land that juts north into the sea in Sindhudurg district. The spur is surrounded by sea on three sides, while the fourth side is connected to land and is accessible by road. Vijaydurg was initially built by Bahamanis, but was later a power house for the Marathas.
Devgad: is a fort on a plateau facing the sea just north of Devgad town in Sindhudurg district.
Terekhol: is a fort on the creek that seperates Maharashtra from Goa. Terekhol fort has now been converted into a 5-star resort. So you need to shell out a lot to see the insides of the fort.
Forts on islands inside the sea
Kulaba: is a fort off the sea at Alibaug. The interesting part of this fort is that when the tides are low, the sea retreats significantly making the water so shallow that you can wade to this fort on foot. It is also possible to take a fishing boat during high tide.
Murud Janjira: is a fort that was built by the Islamic Siddi rulers of Ethiopia on an island off the coast of Murud. The fort was inhabited by the descendents of Siddis until the 1970s, until they evacuated to the Rajpuri village on the shore. There are underwater secret passages from the Janjira fort to different points on the shore.
Padmadurg: is also a fort on an island off Murud, but is deeper in the sea than Janjira. Padmadurg is a Maratha fort, but it now belongs exclusively to the Indian Navy and is off limits for civilians.
Suvarnadurg: is an island fort off the coast of Harnai. One can explore the fort using a local fishing boat. There is a land fort named Harnai fort that supplements the sea fort.
Sindhudurg: is an island that gives its name to an entire district. The fort can be accessed from Malvan beach, where one can book a ticket at a jetty and take a trawler.
Lighthouses
There are several lighthouses that serve ships as a beacon to indicate that they are headed in the correct direction. You can see major lighthouses in the following places in Konkan: Malabar Hill (Mumbai), Dockyard (Mumbai), Kalyan (Thane district), Anjanvel (Ratnagiri district), Jaigad (Ratnagiri district), Ratnadurg (Ratnagiri city), Devgad (Sindhudurg district) and Vengurla (Sindhudurg district). There are several more, but some of them are now defunct.
Temples / Places of worship
There are several temples by the sea in Konkan. Here are some of them.
Mahalakshmi temple and Haji Ali: These are a Lakshmi temple and a Muslim Dargah respectively on the coast of Mumbai. Both of them are near Worli.
Ganpatipule, Redi Ganpati: are Ganesh temples beside beaches.
Velaneshwar, Kunkeshwar: are Lord Shiva Kshetras in beach towns.
Bhagavati temple: is a Bhagavati Devi temple on the hill top fort of Ratnadurg.
Rameshwar temple, Dashabhujalakshmi Ganpati: These are major temples in Revdanda and Hedavi respectively. Neither of them is on beaches but are on the coastal highway, a short distance away from nearby beaches (Revdanda and Guhaghar).
Cities and towns
The following are important coastal cities in Konkan region: Mumbai, Vasai, Thane, Alibaug, Ratnagiri and Malvan.
National Highways
The national highway 17 zips through the foothills of the Sahyadris, hugging as close to the mountains as they can without running into very rugged terrain. This highway stays away from the beaches, providing approach roads to the beach towns at important junctions in towns along the way. While the NH-17 goes south of Mumbai, three more highways, NH-8, NH-3 and NH-4 goes north and east of the city, using which you can explore parts of Konkan, which are at the base of Sahyadris and part of Palghar and Thane districts. Here are the types of destinations you can explore in eastern Konkan via the national highways.
Lakes and river sides
Tansa and Vaitarna: are two lakes at the border of Thane and Palghar districts. These lakes feed rivers of the same names that flow into the Arabian sea. The lakes are also sources of water for Mumbai city.
Ulhas, Bhatsa, Kundalika, Savitri, Gayatri: are rivers that originate in the Sahyadris and flow towards the Arabian sea. Along the way they fall streams, waterfalls and river valleys, finally joining the Arabian sea via creeks. These creeks formed important sea trade routes during the rule of Satvahanas and Rashtrakutas. Of particular importance is the mouth of Ulhas river that forms two creeks, Vasai and Vashi, which seperate the island of Mumbai and the city of Thane from mainland Konkan coast. Following these rivers, you will see many major waterfalls, river-side resorts and water adventure activities. The most popular activity is river rafting on the Kundalika river at Kolad in Raigad district.
Hill forts
To protect the sea routes from invasion, several hill forts were constructed on the Sahyadris, facing the Konkan side. Here are some important forts protecting the trade routes in every district.
Thane: Naneghat, Mahuli, Kamandurg
Palghar: Asherigad, Kohoj
Raigad: Sagargad, Korlai
Ratnagiri: Mandangad, Rasalgad, Bankot
I am rejecting Raigad district's and Maharashtra's most famous fort, Raigad, since it is not particularly built for guarding a sea route. It was built to serve as an empire capital and does not directly face the sea or any sea route. Instead of being fully inside Konkan region, Raigad fort is in the midst of the Sahyadris, straddling Raigad and Pune districts, and can be reached from both Konkan and Deccan regions.
Caves
During the Satvahana rule, several caves were carved out of the rocks on Sahyadris. These caves served as a dormitory for travelling Buddhist monks. They could rest on their journey between Konkan and Deccan. Some of these caves were also carved to be religious hubs, with elaborate Chaityagrihas and stupas. Hindus under Rashtrakutas also followed through with the practice of carving dormitory caves and cave temples. You will see the following cave systems on the side of the Sahyadris facing Konkan.
Mumbai: Kanheri caves (Borivali), Jogeshwari caves (Jogeshwari), Mahakali caves (Andheri), Mandapeshwar caves (Borivali).
Raigad: Kondhane caves (Karjat), Gandharpale caves (Mahad)
Note that I won't include caves like Lenyadri (Junnar), Pandav Leni (Nashik), Karla, Bhaje (Lonavla) and Ajanta, Ellora (Aurangabad). These are caves facing Deccan side and are not part of Konkan.
Towns
There are several important towns that serve as important railway or road junctions on the eastern side of Konkan. They serve as roadheads for important destinations and also as junctions that lead to beach towns and to mountain Ghat roads. Here are the most important cities in eastern Konkan
Kalyan – Dombivli: Compared to Mumbai and Thane, the cities in Kalyan taluka, that include Kalyan, Dombivli, Ulhasnagar, Ambarnath and Badlapur are on the banks of Ulhas river. They are not near the sea and are at the foothills of a range of mountains that contains Matheran hill station. These serve as satellite cities to Mumbai.
Murbad: is an industrial town that serves as the roadhead for Naneghat fort and the waterfall-loaded Malshej Ghat.
Panvel: is the southern-most locality of the system of towns classified as Navi Mumbai, that are in both Thane and Raigad districts. Driving from Mumbai, it is at Panvel that you must decide to explore either the coastal highway or the national highway 17. It is at Panvel that you decide to either explore beaches or the hills of Konkan. Panvel is also an important railway station on Konkan railway.
Khopoli: is a town at the base of Khandala Ghat. The Mumbai – Pune highway passes through Khopoli before ascending towards Khandala and Lonavla. Khopoli is best known for Zenith waterfalls that reach their glory during monsoon.
Pen (prounounced like the English word 'pane'): is a town on the NH-17 and is the junction point to reach Alibaug and the beaches nearby. Pen also has a road that reaches Khopoli. The Pen – Khopoli highway is famous for its very popular theme park Imagica and the presence of two Ashtavinayaks: Mahad and Pali.
Mahad: Not to be confused with the Ashtavinayak Mahad, this is a seperate city that is an important junction on NH-17. Towards the west, Mahad has roads that can access Diveagar, Shrivardhan and Harihareshwar beaches, while to the east, it has access to both Tamhini and Varandha Ghat roads that lead to Pune city. A road diverging from Tamhini Ghat road leads us to the erstwhile Maratha capital Raigad fort. To the east of Mahad at the foothills of Sahyadris near the village of Birwadi are several waterfalls during monsoon.
Poladpur: is an important junction town that leads to Mahabaleshwar hill station of Satara district.
Chiplun: is an important town that also has approach roads to beach towns and hill stations alike. To the west, one can reach Velas, Kelshi, Harnai, Velaneshwar and Guhaghar. To the east, one can take the Kumbharli Ghat to reach Koyana dam. On the outskirts of Chiplun is the Sawatsada waterfall.
Sangameshwar: is a town where one can explore two Lord Shiva temples: Sangameshwar and Marleshwar.
Lanja: is a town on NH-17 from where one can either drive to Ratnagiri city to the west or towards Panhala Ghat and Kolhapur city to the east.
Kankavli: is a important town on the NH-17 from where one can drive towards Vijaydurg or Malvan to the west or towards Kolhapur via Radhanagari Ghat.
Sawantwadi: is a town very close to the border of Goa. Situated around Moti Talao, with the palace of Sawants, Sawantwadi is at the base of the beautiful Amboli Ghat highway, that has several waterfalls on its way to Belgaum in Karnataka. Driving west, one can reach Malvan and Vengurla. A mere 25 km to the south puts us in Goa state.
A word on Konkani food
Konkani food is one of the most delicious cuisines you will eat throughout India. The use of coconut milk in their gravies adds a depth to their taste. The bhakris (rotis) made of pounded rice, jowar and bajra go extremely well with the coconut flavoured gravies. Konkan also has its own version of soft dosa called Ghavane, which is made of pounded rice mixed with coconut milk and is served with coconut chutney. When you are done eating, wash it all down with Sol Kadhi, a delicious drink made with pulp from Kokam fruit, added to coconut milk and flavoured with cumin and asafoetida. Besides being extremely tasty, Sol Kadhi aids digestion.
Conclusion
As you can see, we have a very long post on Konkan. But that's because the nearly 700-km strip of sea-facing land has so much to see and experience. You should seriously consider two weeks of winter on the beaches of Konkan and then return during monsoon to explore the hills and the forests.