Assam, the state known for tea, forms one of the states in north-east India termed as 'seven sisters'. Apart from tea, Assam is also known for its mighty Brahmaputra river and one-horned rhinoceros. Other things about Assam are less known. E.g. the first crude oil extraction and refinery in India was started in Assam. Assam also has the world's largest river island that is continuously inhabited. In this post, let us see how we drove around the state of Assam and what we covered in it.
Our route plan
Assam is a state that appears long and thin on the map. The east-to-west territory is significantly longer than the north-to-south. Cutting the already thin north-to-south expanse is the gigantic Brahmaputra river, which at its widest, spans 14 km in its north-to-south breadth.
The region to the north of the river is very thin. Less than 100 km of travel will put you in Arunachal Pradesh or Bhutan. The northern side has only two major cities: New Bongaigaon and Tezpur. There are other towns which are just entry points to different circuits in Arunachal Pradesh, such as Dhemaji, North Lakhimpur and Gohpur. Arunachal Pradesh is the only state that borders north Assam, also locally referred to as upper Assam. There are two national parks, Orang and Manas, on the north side of the river. Two more towns, Nalbari and Rangiya are important highway junctions with access to river bridges that cross the Brahmaputra river to the south side.
The region to the south of the river is broader, twice the span of the north. The south of the river also saw various dynasties such as Ahom and Kamrup. Hence you will see more cities here. Assam's most happening city Guwahati, second-most important city Dibrugarh, Tinsukia, Sibsagar, Jorhat, Digboi, Lumding and Nagaon are all part of the southern side of the river. The south side also has more national parks such as Kaziranga and Laokhoa. 5 north-eastern states in their entirity can be approached only from south of the river, while Arunachal Pradesh has one entry from this side too. The southern part has a less-explored hilly region with hill stations such as Haflong.
It made perfect sense for us to divide Assam into two sections using the river. Here is how we planned a route.
I. North of the river: Ne w Bongaigaon, Barpeta, Manas national park, Nalbari, Orang national park, Tezpur, entire state of Arunachal Pradesh
II. South of the river: Dum Duma, Digboi, Tinsukia, Dibrugarh, Sibsagar, Jorhat, 4 north east states (Nagaland, Manipur, Mizoram, Tripura), Lumding, Nagaon, Kaziranga, state of Meghalaya, Guwahati
III. Barak valley: Most of Assam is centred around Brahmaputra river. There is another river named Barak, that flows in the south of Assam, where it serves as a natural border to Bangladesh. It is worth checking out the highway between border city Karimganj to Lumding via Silchar that takes you parallel to the Barak river till you reach the hill station, Haflong. We don't recommend this route unless you have an excellent motorbike with a powerful engine or a four-wheel driven SUV. Most of the time, we had to ride over slush and flowing river beds. Low ground clearance vehicles would have inevitably broken down. 20 months have passed between our trip and our writing this post, so you should check if those highways are in better condition today.
Section I: North of Brahmaputra
Assam to the north of Brahmaputra is a narrow strip of land, where the north-south expanse at some places is less than 50 km, before we reach one of two places: the state of Arunachal Pradesh or the royal country of Bhutan. Here are some things worth seeing in upper Assam.
New Bongaigaon: New Bongaigaon is one of the major cities of Assam state. Its growth is mainly due to Indian Oil Corporation's refinery. New Bongaigaon is one of the 5 districts in Assam, where you will find more Bengali influence than Assamese. For this city, the Bengali influence is due to being at the border of West Bengal and Assam. Bongaigaon district shares a border with Alipurduar district of West Bengal. In fact our entry to Assam during India 360 was crossing the Gangadhar river on the highway between the two districts. While there aren't touristy things to see in New Bongaigaon, the city makes a good place to break for the night or for lunch, if you have just crossed the state border or even if you have exited Bhutan via Gelephu.
Barpeta: Barpeta is a town that serves as an entry point to the Manas national park. The park is partly in India and partly in Bhutan, where it is known as the Royal Manas national park.
Tezpur: is a city situated at the confluence of Brahmaputra river with Kameng river. The Indian Air Force has a base a Tezpur. Places of interest at Tezpur are: Brahmaputra river view, Mahabairabh temple, Agnigadh and Tezpur market. Tezpur is also an important road-head for travelling to Tawang district of Assam, along a road that follows the Kameng river. We stayed with close relatives at Tezpur. To the south of Tezpur is a river bridge that crosses to the southern Assamese town of Kaliabor, from where Kaziranga national park is less than 40 km away. Because, we had close relatives at Tezpur, the city formed a place where we could crash after completing different parts of our north-east trip.
Section II: South of Brahmaputra
We crossed to the south of Brahmaputra in the state of Arunachal Pradesh at Parshuram Kund (see the post How we covered it: Arunachal Pradesh). From there, here is what we covered.
Dum Duma: is a town from where one can access Bhupen Hazarika river bridge, the longest road-over-river bridge in India, spanning 14 km. It is also a highway junction from where it is easy to travel to cities like Digboi and Margherita. We stayed with friends at Rupai, a locality about 3 km from Dum Duma.
Digboi: is a town where India's earliest oil refineries were started. During those days, elephants were used as counter weights on pulleys in order to release the oil from the depths of the ground to the surface. The British exploited Digboi more than any other area of Assam, because it was extremely lucrative for them. They used Digboi for oil, tea and timber. Today, Digboi has one of India's largest oil refineries operated by Assam Oil, a subsidiary of Indian Oil Corporation. You can drive around town enjoying the tea plantations, the Indian Oil township and its Oil museum.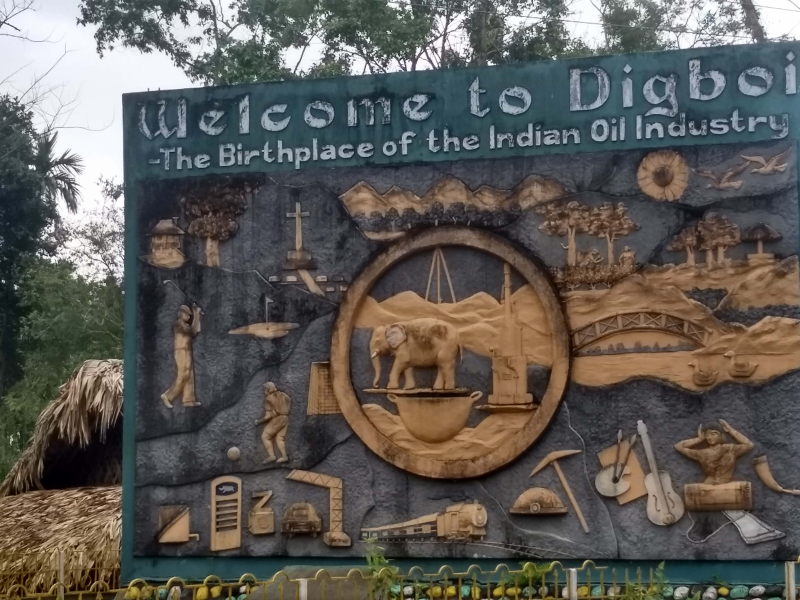 Tinsukia, Dibrugarh: are two cities 40 kilometres apart and form important settlements to the south-east of Assam. Both cities have several tea processing plants and educational hubs.
Sibsagar: is a town that used to be the capital of Ahom dynasty (see the post History revisited: The Ahom dynasty of Sibsagar, Assam). You can see several heritage structures built by the Ahom dynasty around Sibsagar such as the Shiva Dhol, Devi Dhol, Vishnu Dhol, Rang Ghar and Talatal Ghar.
Jorhat & Majuli: Jorhat is a town that serves as the ferry point for exploring Majuli island. Majuli is the largest river island in the world. Majuli is divided into regions called Satras. Each Satra is carved out based on the chief occupation of the people of the Satra. E.g. Samaguri Satra is for making masks, Solmara is for pottery, etc. Auniati Satra is the religious and cultural hub of Majuli. In Majuli, one can stay in one of the several homestays or cottages, most of which also comes with food. A good way to explore Majuli is by hiring a bicycle.
Kaziranga National Park: is India's most famous national park for spotting one-horned rhinoceros. This park has the highest number and density of rhinos. One can take a jeep safari inside the park. But it is also possible to spot rhinos at the edge of the park on the highway between Nagaon to Jorhat, from a place called the rhino view point. Besides rhinos, Kaziranga also has tigers, leopards, water buffaloes, several species of deer and bird life.
Guwahati: is the most happening city of Assam. Within Guwahati is a seperate enclave with is own corporation. This enclave is named Dispur and is officially the capital of Assam. Guwahati is famous for Kamakhya temple, silk museum, several institutes, and a beautiful Brahmaputra river cruise.
Section III: Barak valley
Barak valley is a route that follows the Barak river from the hill station of Haflong to the point where the river enters Bangladesh near the state of Tripura. The only major cities on the route are near the Bangladeshi border, i.e. Karimganj and Silchar, both of which are Bengali speaking due to their proximity to Bangladesh. Along the way there are stunning views of the river, the rail route that connects Lumding to Agartala via Silchar and the view of forested hills in every direction. The smaller rivers from the hills, on the way to joining the Barak river, form streams and waterfalls along the way.
While stunning in beauty, the road is full of slush, loose rocks and mud. Some rivers have also overflown and knocked down some of the bridges. Such rivers flow dangerously on the road. The route is not for the faint-hearted or those with ill-prepared vehicles. Barak valley road was our most challenging motorbike ride segment in all of India 360. But once you reach Haflong, you cross a tunnel. On the other side of the tunnel, a different world awaits. The road turns into a 3-lanes-a-side fully paved high-speed national highway. You will reach Lumding and then Nagaon in no time.
Conclusion
Assam is a fairly easy state to plan your route. But there is so much in the state that is undiscovered and not well-documented. You are suggested to spend some time on TripAdvisor and also speak to the locals about what is unique to their area. You will discover plenty of hidden gems.