Meghalaya translates to the 'abode of the clouds' (Megha Aalaya in Sanskrit). The state is home to green mountains, forests, man-made tree root bridges, spice gardens and natural caves. We covered parts of Meghalaya that are usually not covered by tourism packages. Because we covered the state on motorbike. But also, we went there during the north-east monsoon season. So a lot of interesting spots such as deep cave exploration and hidden waterfalls were closed due to flooded paths. Still, in this post we cover our path through Meghalaya and what important points we covered. We will also list some of the places we couldn't cover and from where you can get there.
Geography of Meghalaya
Meghalaya is a mostly mountainous state, with the only low-lying area at Dawki near the border of India and Bangladesh to the south of the state. The state is divided into three north-south regions based on the tribal communities. The west-most region, which is the least touristy, is known as Garo district. The middle region, which contains the most populated and touristy destinations such as Shillong, Sohra (Cherrapunji) and Dawki are part of Khasi district. The east most region is named Jaintia and has some of the most interesting treks and cave exploration. Jowai is the most important town in Jaintia region.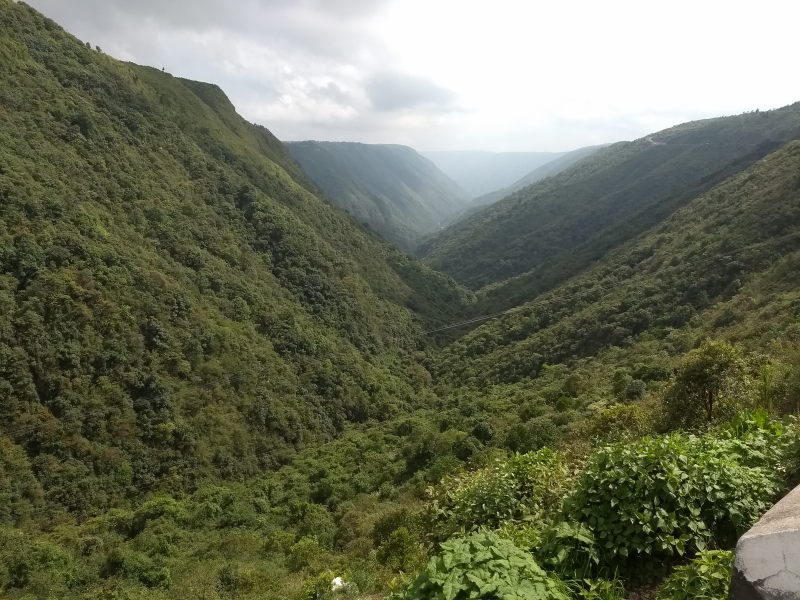 Meghalaya receives rainfall for 8 to 9 months every year. Mawsynram village in Khasi region is the rainiest place in the world, with an annual rainfall of 10,000 to 11,000 mm (i.e. 393 to 433 inches). The state receives rain from both the north-east and south-west monsoon winds. It can rain practically any time all over Meghalaya. There is a dense cloud cover for most of the year, with cloud build-up happening several times per day, leading to rains, thus earning the state its name.
Our route through Meghalaya
In our trip, we did not cover Garo hills, i.e. the western region. We were told by other motorbiking groups that while the region was beautiful, it was hard to get by with English or Hindi in the region or to find accommodation. Garo region is not yet open to tourism and there is still work to do.
Meghalaya was the last state in India 360 that we covered. We entered Meghalaya through Assam. Since we were travelling from Tezpur, which is to the east of Meghalaya, we took the west-bound highway to Guwahati via Nagaon and took the south-bound exit to Meghalaya at Jagiroad town. If you are driving from Kolkata or Guwahati, you will reach Jagiroad from its west and take the same exit.
After staying in Shillong for a couple of nights, we covered Sohra (previously called Cherrapunji) district. From Sohra, we drove to Mawlynnong, the village rated as the cleanest village (frankly, reason not convincing enough for us). From Mawlynnong, we drove to the river-side town of Dawki. From Dawki, we started driving towards Assam to complete our trip India 360. But instead of driving all the way back to Shillong on the same route, we used the Jaintia region to drive via Jowai and Nartiang before exiting Meghalaya at Khanduli.
Here are the places we saw along the route.
Khasi Hills: Guwahati – Shillong – Sohra
Umiam lake: Umiam lake is a lake on the entry to Shillong. It was formed in the 1960s after building a dam over the Umiam river. It is the main catchment area for Shillong city for water supply. You will not miss Umiam lake if you are driving to Shillong from Jagiroad. It is right on the way.
There is a road near Umiam lake that goes straight to Shillong airport without passing through Shillong city. It is called Shillong bypass road. Going beyond from Shillong airport, this road leads to Jowai in Jaintia Hills. After showing tourists around Meghalaya upto Dawki, some tourist taxis prefer to drive to Jowai and then drop tourists off either at the airport or back to Shillong city.
Shillong city: Shillong is the capital of Meghalaya. It is commercially the most important city among the hilly states in north-eastern Himalayas. The main language spoken in Shillong is Khasi, since the city is in the Khasi Hills. Shillong itself has several places of interest, which we will list in the points to follow.
City centre point, Shillong: The city centre point is a commercial hub inside Shillong city that has five roads meeting at one junction. One of the roads is a walk-only promenade with several street side shops, restaurants, cafes and hotels.
Ward's lake: This is a lake in downtime Shillong. The lake has a walkway surrounding it. There is even a small wooden bridge as a walkway crossing the lake. The lake has pedal boats. Outside the lake are several eateries where you can eat common snacks such as momos and frankies. The lake area is a good place for relaxing and for photography.
Shillong peak (Laitkor): Shillong peak is a hill just outside Shillong city. Most of it belongs to the Indian Army as a place to watch over Shillong and the surrounding area. Visitors are allowed on certain days upto a watch tower inside the campus. The rest of the campus is off-limits for civilians.
Captain Williamson Sangma museum: Named after the late Lok Sabha speaker, the Sangma museum is a place where you can look at the history of Meghalaya state and get a glimpse of its culture.
Don Bosco museum: Don Bosco museum is in a quiet suburb of the city with less crowd and traffic. The museum is a seven-storey edifice with glimpses into all the 8 states in north-east Himalayas (Arunachal, Assam, Manipur, Meghalaya, Mizoram, Nagaland, Sikkim, Tripura). On the terrace is a view point with a view of the entire city of Shillong surrounded by Khasi Hills.
Lachumiere wall paintings: In Lachumiere neighbourhood in the centre of the city, some of the government buildings facades and compound walls have beautiful paintings. I will let the photos do the talking.
Laitumkrah cathedral: This beautifully constructed cathedral is the chief cathedral for the entire state of Meghalaya. People from all over the state gather here for important Christian festivals.
Elephant waterfall: On the highway between Shillong and Sohra, you will come across the entrance to the trail that leads to the Elephant falls. No one really knows with certainty why the falls are named that way. You will hear quite a few stories about it. While you can visit the falls when you are in Shillong, there is nothing extremely beautiful about it and there are better falls around Sohra.
Sohra: The town was famous by the name Cherrapunji until a few years ago and used to be the wettest place in the world. The record has been taken over by Mawsynram, also in Khasi Hills. But over the last two years, Agumbe in Karnataka and Mahabaleshwar in Maharashtra have received more rains that Khasi Hills, which has faced a couple of drier monsoons. Sohra is a town where you can stick around for a day or two to explore the nearby destinations, some of which are legendary.
Nohkalikai falls: These falls are near Sohra and can be seen from a viewpoint. The falls plunge from a height and form a clear blue pool at the bottom. There is a way to trek down to the base of the falls, but you'd need a local guide for that.
Mawsmai caves: These caves are a teaser for caving in Meghalaya. While it is too short and too touristy, it can serve as a good starting point if you wish to explore more secluded caves in Meghalaya.
Nongkriat living root bridges (single and double): In the village of Nongkriat, a trail goes down to the depths of the forest where you can witness something unique to Meghalaya. The roots of trees have been used to build bridges to cross a river. Meghalaya's most famous landmark is the double-root bridge, where the roots of two trees across the river have been used to build a double-decker bridge, with one bridge slightly above another. We could not cover another destination on the same trail, i.e. Rainbow falls. When we went to Nongkriat, it was raining once every 10 minutes and all the hidden trails were flooded.
Kutmadan: Kutmadan is a small village in Sohra district, from where one can literally see the plains of Bangladesh, while standing on a hill top. In fact, if you search for mobile networks on your phone, you will be shown Bangladeshi phone networks, whose towers seem to beam more power to this village. Only certain areas in the village, e.g. the kitchen of a resort where we pitched our tent, are capable of receiving Indian mobile provider signals.
Khasi Hills: Mawlynnong – Dawki
From Sohra, it makes good sense to point your vehicle towards Mawlynnong and then further to Dawki. Here is what we saw along the route.
Mawlynnong: This village is supposedly the cleanest village in Asia. While we definitely saw people working hard to keep the village clean and also teaching their children how to, we definitely cannot be convinced that this is the ONLY clean village in India or even the north-east. We have seen several places which are equally clean despite being more populated. Another disappointing thing is the exorbitantly jacked up prices of the guest houses around the village, which are a result of the 'clean tag' and the resulting curious tourism. Many people also find Mawlynnong less crowded than nearby Sohra, especially tourists from abroad, who prefer to use Mawlynnong as a quieter place to stay and use from further travel.
That said, Mawlynnong has its own activities such as canopy walk, its own living root bridge and a balancing rock, which is a large rock sitting on a smaller rock with immaculate balance.
Mawshun caves: Mawshun caves were discovered and opened for tourism quite recently (2017). It is in Mawshun village on the highway from Shillong to Dawki. But unlike Maswmai (Sohra), Mawshun attracts few tourists. This is because it takes a nimble body to explore these caves. While Mawsmai has only one narrow passage, Mawshun has a series of narrow passages, where one needs to duck, squeeze and wiggle. The walk inside the cave is conducted by a bunch of Khasi kids who look like secondary school students from lower middle class families. But they speak impeccable English and are experts around the caves. You are given torches, special shoes and helmet to explore the caves, along with one guide.
Dawki: Dawki town is on the western bank of Dawki river where it is joined by Goyain river. To the south of the confluence is Bangladesh's Jaflong town. At Dawki, the river water is so clear that you can see through to the bottom and the boats appear to be floating in the air. There are several lodges in Dawki, but the best way to stay here is river-side camping either with your own tent or through a camping company.
Jaintia Hills: Dawki – Jowai – Khanduli
To the east of Dawki river, the Khasi region ends and Jaintia region starts. The highway crosses from west to the east of the river thus putting you in Jaintia region. But not before passing near Tamabil checkpost. This checkpost is on the border of India and Bangladesh. Trucks carrying goods between India and Bangladesh need to get through customs at this checkpost. As a result, you will see a humungous row of trucks waiting for their turn on the lane of the highway that leads to the checkpoint. The lane that leads towards Jowai is virtually empty. It is amusing to see hundreds of trucks stretching into a line several kilometres long. From the length of the line, we estimated that the last ones would take two days to reach the checkpost!
Be careful while you drive along this road. Really careful. Since the trucks take up one side of the two-lane road for days together, the traffic bound from Jowai to Dawki can do nothing but stray towards the lane that is used by the Jowai-bound vehicles. Be really careful to avoid head on collisions, especially with local motorbikes who zip along in the wrong direction at really high speeds. There are no dividers on this highway and for once, I have to say that it is with good reason. Otherwise, cars and motorbikes would have to stay behind the trucks for days. But honk away at every blind turn and drive reaaaaallly slow, not exceeding 20 kmph, until you see the last of the trucks. No ego or thrill necessary here. It is your safety at stake.
Jowai: is the principal city of Jaintia Hills. From here a highway goes westward to Shillong airport (the same Shillong bypass road that passes Umiam lake), while we remained on the north-east path towards Nartiang. Jowai is a road-head for several caving and rarely used trekking trails in Jaintia Hills, which are yet to receive the kind of attention they deserve.
Waterfalls, caves and treks: None of which we could cover ( 🙂 ) since all the trekking trails and cave paths were inundated in knee deep water. We were practically laughed at when we asked for trekking information at Jowai town. It felt like asking to see snow in July. We phoned a friend who had visited Meghalaya recently, but he responded that he had seen only Khasi and hadn't visited Jaintia region at all.
But here are some things you can see if you visit at the right time of the year (October – March): Krang Suri falls, Phe Phe falls, Umlawang caves (the longest mountain caves at 31 kilometres!), Mookhuri falls, Moopun falls, Tipka falls, Kremlabit caves (also 20+ km)….. and many more that are still being discovered!
Nartiang menhirs: This place has a stone-henge like feel to it. Inside a park, we can see several stone menhirs stacked in several shapes. The menhirs are also called 'monoliths', since each one is carved out of a single rock. The monoliths are said to be carved by the Hindu rulers of Jaintiapur. Jaintiapur city is now in the plains of Bangladesh, but the region, as you know, is still named Jaintia Hills.
Conclusion
While we drove through a lot of regularly visited sites in Meghalaya and even some of the not-so driven paths, we couldn't do justice to the really beautiful state, because we visited in May when monsoon is at one of its fiercest in the state. We would really love to head back here during the last quarter of some year soon. But using this post, you can plan a trip as beautiful as or even better than ours 🙂